In 1967 midway through a Wado Ryu style karate lesson, two men walked in who would go on to shape the future of British Martial Arts. The first an RAF officer Richard Harding, introduced a tall impressive oriental man named Ki Ha Rhee, a Korean Military officer and 5th Dan Black Belt who had arrived in the UK to introduce the Korean Martial Art of Taekwondo. 
At the first ever Black Belt grading in the UK, Bob Howe and Ian Duffy become the first Black Belts in the UKTA (United Kingdom Taekwondo Association).  After competing internationally and winning various medals, Rhee took Bob Howe and Murray Walker to compete in an ITF International Championships, from which Bob returned home with the first Gold Medal from any ITF international tournament by anyone from the UK.
Bob Howe became the first chairman of the UKTA, and represented Taekwondo on the Martial Arts Commission Board.
(Right): The Pioneers of British Taekwondo left to write Bill McCraken, Roy Marsden – RAF senior officer, Ki Ha Rhee – Chief Instructor UKTA, Tony Quigley, Bob Howe, Marsden & Quigley both gained there black belts abroad while serving with the RAF, McCraken & Howe were the first home grown black belts in the UK.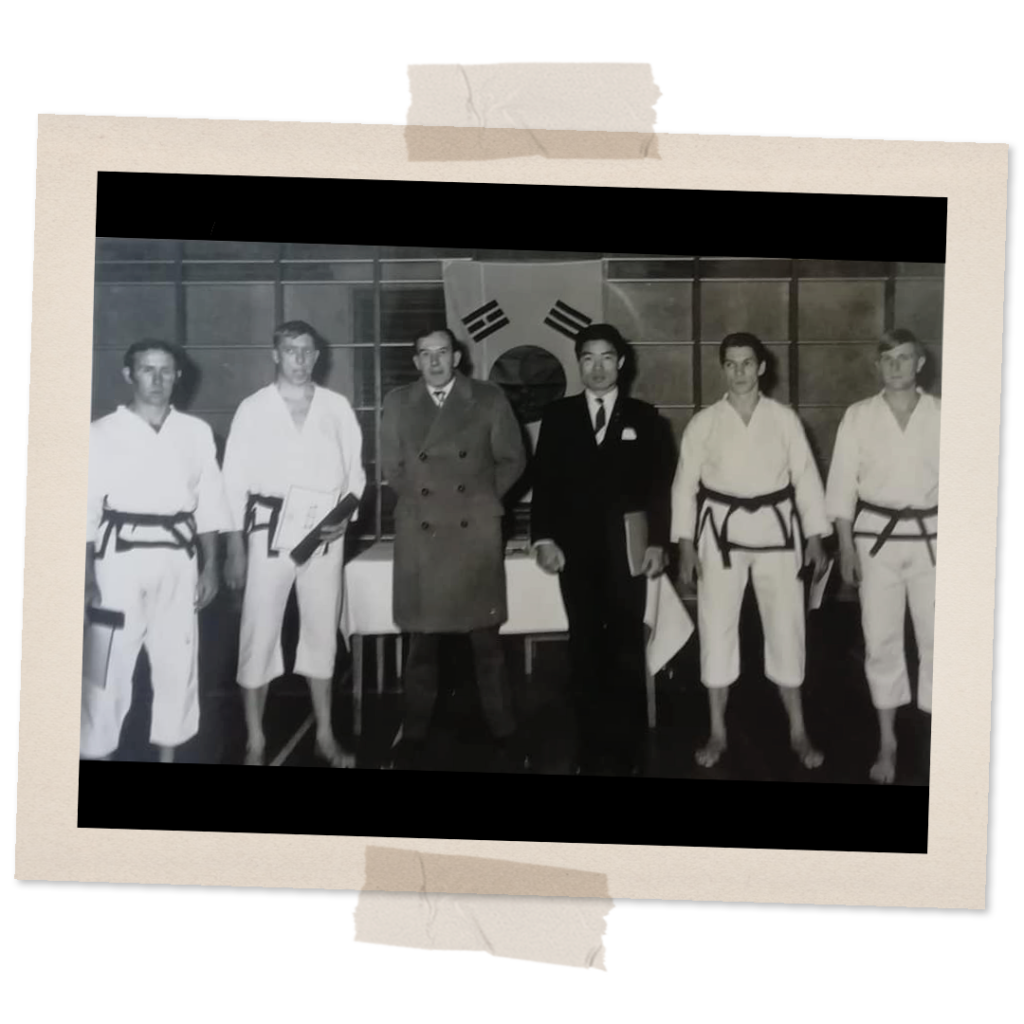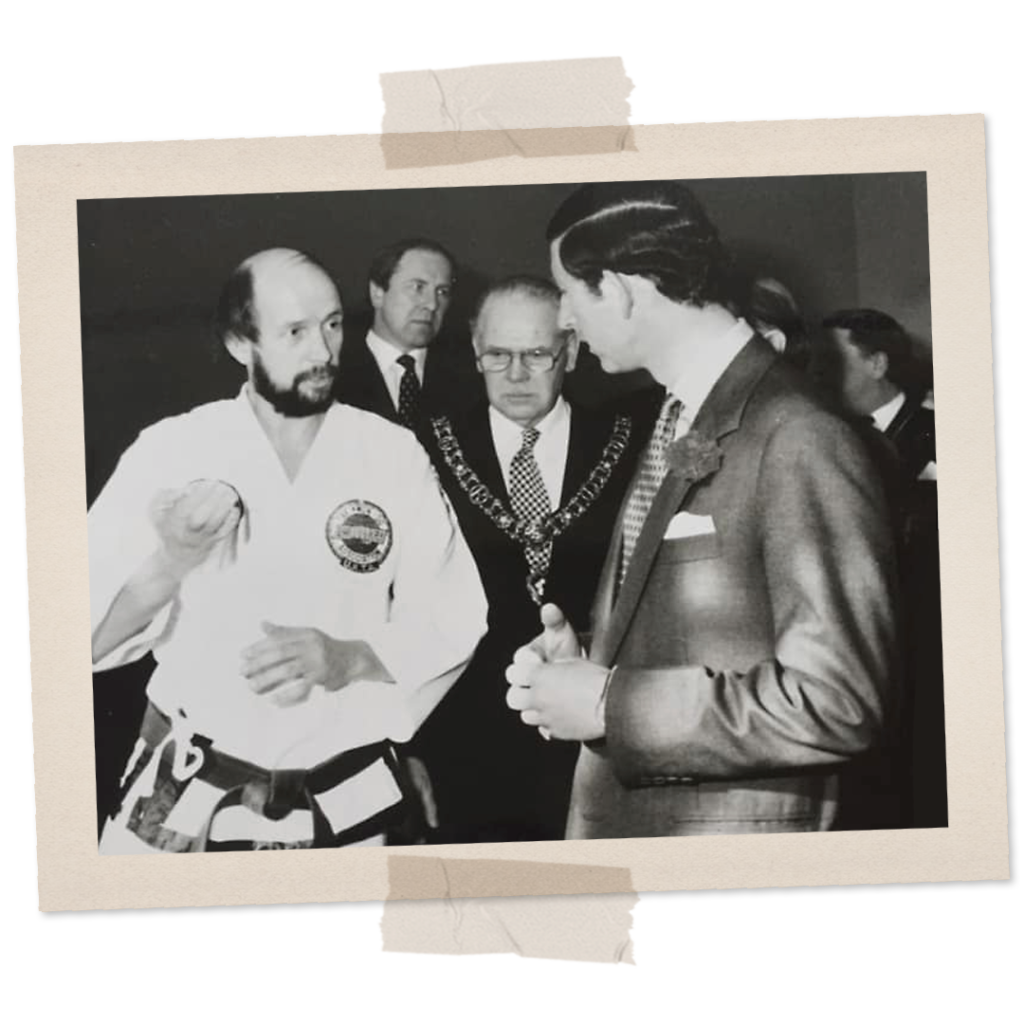 As Taekwondo grew in the UK, subsequent political differences started to arise in Korea. First there was a split into two separate organisations, and further splits resulted in several competing groups who formed their own organisations. With a number of these dominated by foreign nationals outside of Korea mainly with financial and political interests for their decision.
Disillusioned with the ever evolving situation, in 1983 the most senior ranking British Taekwondo instructors joined forces and formed the Taekwondo Association of Great Britain. Together they combined some of the World's top Taekwondo performers, and several World Champions.
Bob Howe became the first TAGB chairman in 1983, and after the first year in 1984 he handed it over to Dave Oliver. Dave was a star student at Bob Howe's first Taekwondo club in Warwick. Gaining Black Belt certification in 1974,  he went on to win many tournaments including the British Championships in 1976, British International Champion and also competed in the ITF European Team Championships gaining a Bronze.
Dave Oliver went on to become British team coach for the UKTA. During which time they became World and European Champions. At his peak as an instructor Dave ran three clubs in total, Warwick, Solihull and Nuneaton. The three were the most successful competing clubs of all time, winning the British Championships three years in a row, and Black Belt Champions five times.
(Left): Grand Master Oliver explaining to HRH Prince Charles how to break a house brick with knife hand strike which he had just demonstrated. At the opening of the new YMCA Leciester, broadcast on both BBC & ITV national news.
The British Taekwondo Council (BTC)
In 1988, the TAGB co-founded the British Taekwondo Council (BTC). The BTC was established as the only governing body of Taekwondo to be recognised by the Sports Council to unify and oversee the development of Taekwondo in the UK. The BTC caters for all styles of Taekwondo, ITF, Kukkiwon and Independents. 14 different associations with a membership of 50,000.
As of 2021, the current BTC Executive Officers are: Chairman Master Dave Oliver (TAGB), Vice Chairman Mater M. Dew (TAGB), Secretary General Master T. Nicholls (ITF), Liaison Officer Master R. Sergiew (TAGB), Liaison Officer Master G. Miller (ITF), Treasurer Mr. K. Beddows (ITF).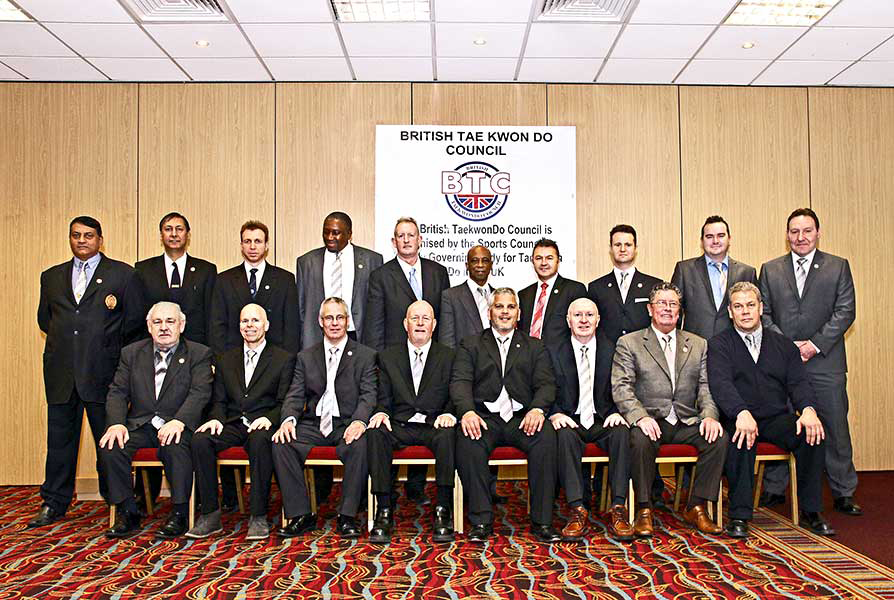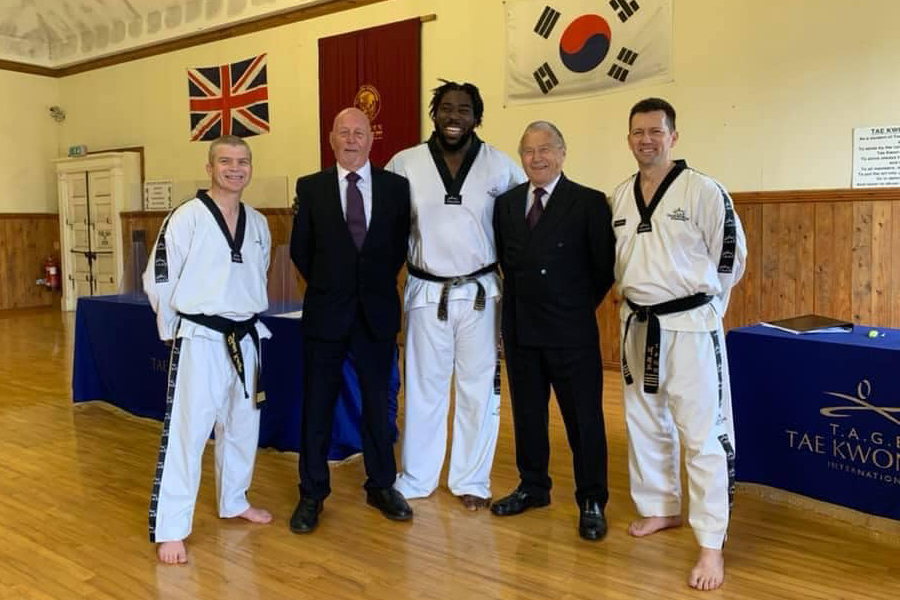 Progression and the future
The TAGB has gone on to be the most successful Taekwondo organisation in the World. As it stands there are over 26,000 accredited members across 700 registered schools. In 1993 the TAGB helped found Taekwondo International which has grown to become one of the biggest world Taekwondo bodies. It's always been non-political and doesn't attempt to dictate to member countries how they should run their affairs. The World Championships are the largest and best organised Taekwondo tournament, bringing together competitors and spectators from every continent.
Throughout the years the TAGB have strived to maintain the highest level of professionalism within their organisation. Their work extends beyond just providing instructors with guidance. TAGB instructors are highly qualified, accredited individuals with many years experience in teaching mixed classes. Advanced courses are regularly attended to educated in updated practices, training techniques and advances in sports science. With  4 levels to the TAGB Instructors Course, and all instructors expected to attend regularly, the TAGB ensures your instructors are trained to the highest level of any Martial Arts organisation.

The TAGB also ensure all instructors are CRB checked and provide full professional indemnity insurance cover for every student who participates in TAGB Taekwondo. 
(Left) A Black Belt grading at the TAGB Headquarters, The Bristol Academy.